Food Safety Policy
Our products are manufactured and sold in accordance with the following food safety policy;
We continuously make a contribution to food culture in the world by providing safe and secure "TAMARI and Soy Sauce".

We provide "TAMARI and Soy Sauce" in compliance with applicable laws and regulations and food safety requirements set by our customers.

We facilitate better communication with both employees and customers with regard to food safety matters in order to improve customer satisfaction.
FSSC 22000 Certification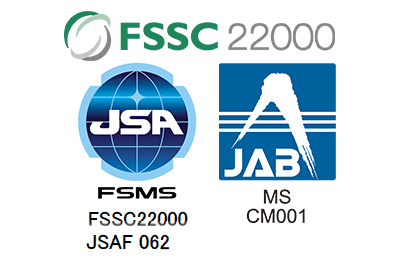 FSSC (Food Safety System Certification) 22000 is a global standard for food safety system approved by GFSI (Global Food Safety Initiative), a non-profit organization established by leading consumer goods manufacturers and major retail companies in the world.
Tacking on practical food sanitation control technique to ISO22000 that is the international standard for food safety management system, FSSC22000 is now adopted as a new guideline for supply chain management by famous food manufacturers and retailers around the world.
Obtained FSSC22000 certification in 2017, we always provide customers with safe products by the established system to provide assurance of food safety at every step of the process from material procurement to product shipment.
We have carefully selected good quality raw materials. Especially we only use non-genetically modified (Non-GMO) soybean as main raw material.
Efforts to reduce the effects on the environment
In our company, soy sauce lees and soybean oil that are produced during the manufacturing process are used as livestock feed and for industrial use, respectively. We also promote "green procurement", preferentially selection of an environment-friendly product, when purchasing secondary materials and supplies.
In this way, we are committed to reducing the effects on the environment, aiming to become a green company.
Production Facilities
We have consistently adopted new technology and introduced modern equipment, while maintaining the traditional method of producing TAMARI soy sauce.
Actually, from mass production era amid the high-growth period of Japan's economy to the age of small-lot multi-product production, we have enhanced the sanitary-design production facilities with high production efficiency for the purpose of providing customers with safe and secure product.
We have also trained our employees, so that they can flexibly coordinate production schedules with having technical knowledge of and high level of consciousness for food safety.
For many years to come, we will continue to produce safe and secure products by creating a new system which is on the basis of well-trained people and facility expansion and reinforcement.